FIGURINE URNS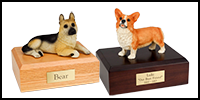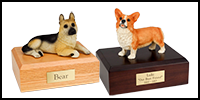 FIGURINE URNS
Our most popular urn is our Figurine Urn, made from solid hardwood. (Available in maple, oak, or walnut). This urn offers you a choice of over 700 different purebred dog and cat figurines attached to our beautiful wood urn bases. This urn also includes your personal (4 line 100 character) inscription on a premium leaded brass nameplate. Pet's bagged ashes are installed through removable bottom which is secured with screws, providing tamper resistant protection.

Rapid 1-Day and 2-Day air shipping is available! We attempt to ship all orders placed by 11 a.m. the same business day from St. Paul, Minnesota.

Please understand that we attach the figurines so their faces are looking forward. The positioning shown here was chosen by the photographer to best reveal the shape of the figurine and is not necessarily the way we assemble each individual urn order.
Please follow the link to make your selection then you will be prompted to select the breed after you click add to cart. http://peturncatalog.com/28021/index.php?main_page=index&cPath=24&zenid=h1vsr7afr0nis5m9lgjjf3ghb7
Be sure to note the Model Number as you will be asked at check-out.
Small 7.75" x 6" x 2.75" 0-45 lbs. 55 cubic inches
Medium 7.75" x 6" x 3.75" 46-70 lbs. 85 cubic inches
Large 7.75" x 6" x 4.75" 71-95 lbs. 115 cubic inches
X-Large 7.75" x 6" x 5.75" 96-125 lbs. 145 cubic inches